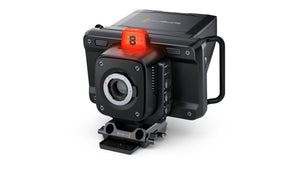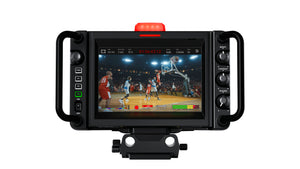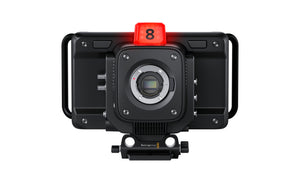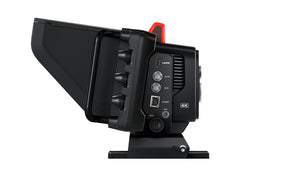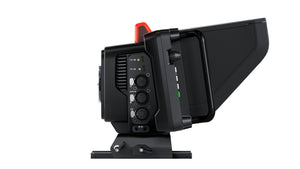 LAST ONE! Blackmagic Design Studio Camera 4K Pro
Regular price
Sale price
$1,795.00
---
WE ARE DOWN TO (1) UNIT IN STOCK!
Blackmagic Design Studio Camera 4K Pro
The ultimate self contained live production camera! 
Designed for professional SDI or HDMI switchers, you get all the features of the Plus model, as well as 12G-SDI, professional XLR audio, brighter HDR LCD, 5 pin talkback and 10G Ethernet IP. 
Designed for powerful SDI switchers, Blackmagic Studio Camera 4K Pro adds professional 12G-SDI and 10G Ethernet connections. That's perfect when the camera is located a long distance from a switcher. There's a 12G-SDI output and a 12G-SDI program return input that includes camera control, talkback and tally. You also get the same powerful HDMI output with control features. Plus the 10G Ethernet connection allows all connections on a single cable for a SMPTE style workflow that's much lower cost. 
Introducing the world's most advanced self contained studio camera! Blackmagic Studio Cameras have the same features as large studio cameras, miniaturized into a single compact and portable design. Plus with digital film camera dynamic range and color science, the cameras can handle extremely difficult lighting conditions while producing cinematic looking images. The sensor features an ISO up to 25,600 so you can create amazing images even in dimly lit venues. It even works under moonlight! Advanced features include talkback, tally, camera control, built in color corrector, Blackmagic RAW recording to USB disks and much more! You can even add a focus and zoom demand for lens control! 
Designed for Live Production 
While Blackmagic Studio Camera is designed for live production, it's not limited to use with a live switcher! That's because it records Blackmagic RAW to USB disks, so it can be used in any situation where you use a tripod! The large 7" viewfinder makes it perfect for work such as chat shows, television production, broadcast news, sports, education, conference presentations and even weddings! The large bright display with side handles, touch screen and physical controls makes it easy to track shots while being comfortable to use for long periods of time. Because it's so lightweight, it's perfect when you're constantly changing locations and doing different kinds of work. 
Revolutionary Studio Camera Design 
Large broadcasters use expensive studio cameras that are extremely large, so they're not very portable. The distinctive Blackmagic Studio Camera has all the benefits of a large studio camera because it's a combination of camera and viewfinder all in a single compact design. It features a lightweight carbon fiber reinforced polycarbonate body with innovative technology in a miniaturized design. The camera is designed for live production so it's easy to track and frame shots with its large 7" viewfinder. The touchscreen has menus for camera settings, and there's knobs for brightness, contrast and focus peaking. Plus a tripod mount with mounting plate is included for fast setup! 
Exceptional Low Light Performance 
In advanced cameras, ISO is a measurement of the image sensor's sensitivity to light. This means the higher the ISO the more gain can be added so it's possible to shoot in natural light, or even at night! The Blackmagic Studio Camera features gain from -12dB (100 ISO) up to +36dB (25,600 ISO) so it's optimized to reduce grain and noise in images, while maintaining the full dynamic range of the sensor. The primary native ISO is 400, which is ideal for use under studio lighting. Then the secondary high base ISO of 3200 is perfect when shooting in dimly lit environments. The gain can be set from the camera, or remotely from a switcher using the SDI or Ethernet remote camera control. 
Get Cinematic Images in Live Production! 
The amazing 4K sensor combined with Blackmagic generation 5 color science gives you the same imaging technology used in digital film cameras. That means you can now use cinematic images for live production! Plus, when combined with the built in DaVinci Resolve primary color corrector you get much better images than simple broadcast cameras. The color corrector can even be controlled from the switcher. With 13 stops of dynamic range, the camera has darker blacks and brighter whites, perfect for color correction. The sensor features a resolution of 4096 x 2160 which is great for both HD and Ultra HD work. Plus, all models support from 23.98 fps up to 60 fps. 
Affordable Photographic Lenses! 
With the popular MFT lens mount, Blackmagic Studio Cameras are compatible with a wide range of affordable photographic lenses. Photographic lenses are incredible quality because they're designed for use in high resolution photography. Plus, the active lens mount lets you adjust the lens remotely! To eliminate the need to reach around to adjust the lens zoom and focus, the optional focus and zoom demands let you adjust the lens from the tripod handles just like a large studio camera! This means you avoid camera shake when adjusting the lens, so you can track shots and operate the camera without taking your hands off the tripod! It gives you the same feel as an expensive B4 broadcast lens! 
---