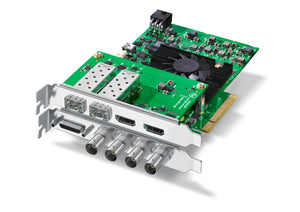 DeckLink 4K Extreme 12G
Regular price
Sale price
$895.00
---
The DeckLink 4K Extreme 12G is the ultimate digital cinema capture card featuring two full frame DCI 4K inputs and outputs! The multi rate 12G-SDI connections work with SD, HD and Ultra HD all the way up to full frame DCI 4K at 4096 x 2160 resolution at 60 frames per second. DeckLink 4K Extreme 12G supports 10-bit YUV and 8-bit, 10-bit and 12-bit RGB as well as 3D up to DCI 4K at 4096 x 2160 resolution at 60 frames per second.
The DeckLink 4K Extreme 12G includes a new mezzanine card design that adds HDMI in and out on a second daughter card along with sockets for adding 2 optical fiber modules for Dual Link optical fiber SDI in and out. SMPTE compatible optical modules can be added up to 12G-SDI speeds, allowing customers to choose to connect equipment using optical fiber connections instead of regular BNC copper cables for dramatically longer cable length, even at the faster 12 Gb/s speeds.
DeckLink 4K Extreme 12G is perfect for customers working on feature film, commercial, visual FX, and television productions that require high resolution, deep color, stereoscopic 3D and high frame rate support.
DaVinci Resolve 11 customers will benefit from the simultaneous capture and playback support as this lets them capture direct from cameras on set, grade the live video with multiple nodes of correction and then to output the video to an on set monitor, all live and in real time! This makes lighting a film set easy and allows DOP's, directors and colorists to work together to optimize the film's look on set.
OEM developers will also like the multiple new features in these models as they greatly benefit customized system development. These new features include full frame genlock timing, closed caption in all bit rates, automatic input detection support, better CRC input checking, extremely low latency and direct GPU support, plus the ability to write pixels directly into the card's frame buffers and the ability to write their own custom drivers.
DeckLink 4K Extreme 12G includes two 12G-SDI inputs and two 12G-SDI outputs, reference input and RS422 deck control ports for capture and playback of all SD, HD, Ultra HD and DCI 4K formats. The card also includes HDMI input and output, AES/EBU balanced XLR and unbalanced RCA inputs/outputs, and analog video I/O via the included breakout cable.
"In developing the DeckLink 4K Extreme 12G we set out to design a card that just had everything we needed for high end feature film work in DaVinci Resolve, and we said to the engineers, don't worry about cost, just make it as awesome as you can!" said Grant Petty, CEO, Blackmagic Design. "This new DeckLink 4K Extreme 12G is the result and it's got everything we could want! But at the same time it's also compatible with analog equipment from decades ago, all in the single card! Plus it's still an affordable US$1,495, which is exciting!"