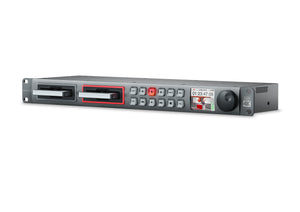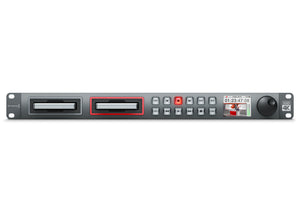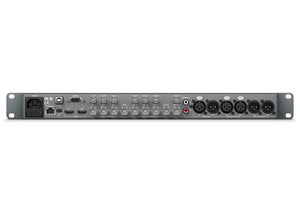 HyperDeck Studio Pro
Regular price
Sale price
$1,995.00
---
HyperDeck Studio disk recorders let you record the highest quality uncompressed and compressed ProRes and DNxHD video formats using fast 2.5" SSDs. Designed with familiar VTR controls, HyperDeck Studio includes innovative features that extend beyond the capabilities of traditional decks. Dual SSD slots let you record continuously, when one disk is full recording automatically continues on the next SSD. You can mount an SSD recorded using HyperDeck Studio on to any computer to access your files, so you don't need multiple decks to work with your media! There are two great HyperDeck Studio models to choose from.
HyperDeck Studio is a fantastic modern replacement for aging broadcast decks. You get the same functionality and control of a professional deck with the advantage of recording directly to uncompressed or industry standard ProRes and DNxHD video formats. Connect cameras, switchers or any other video feed to HyperDeck Studio and create files that are perfect for every production and post production workflow! With a slim 1 rack unit design, HyperDeck Studio is considerably smaller than a traditional VTR and fits easily into any equipment rack, OB vehicle or flyway kit!
HyperDeck Studio Pro features 4 channels of 3 Gb/s SDI, HDMI and analog connections with standard XLR connectors for audio and timecode. Supports SD/HD, RGB 4:4:4 and 2K, plus full 4K playback from a single SSD using Apple ProRes.
HyperDeck Studio records SD/HD 10-bit 4:2:2 uncompressed video for perfect broadcast quality. With uncompressed video you can create the sharpest VFX plates for match moving, compositing and more. You get deep dynamic color range for color correction and perfect keying without jagged edges. You can also use industry standard compressed video formats that maintain incredible HD quality at reduced files sizes. With HyperDeck Studio Pro you can now push quality to new heights, with additional support for uncompressed RGB 4:4:4 and 2K, plus 4K playback using Apple ProRes.
Create files that are perfect for any broadcast and post production workflow! HyperDeck Studio's uncompressed video files are recorded in QuickTime format to provide universal compatibility with leading video software. Both HyperDeck Studio models also support Apple ProRes and Avid DNxHD industry standard file compression so you can record directly to your preferred video format. DNxHD and ProRes provide 5 times longer recording than uncompressed HD video, while maintaining 10-bit color and full frame 1920 x 1080 sampling.
HyperDeck Studio records universally compatible QuickTime files in 10-bit uncompressed or compressed DNxHD and ProRes formats so they can be used with all popular software packages, such as Final Cut Pro X, Adobe Premiere Pro CS6, After Effects CS6, Avid Media Composer 6, DaVinci Resolve and more. Customers will always be free to choose the editing, color correction and finishing tools that are best for their clients and jobs.
Qualified SSD DRIVES
SSD's which are qualified for Uncompressed 10-bit video capture will also work well for compressed video capture. There are some SSD's which we have tested and found to drop frames when capturing Uncompressed 10-bit video. However, they still work well when capturing compressed video. 
The following SSD's are recommended for Uncompressed 10-bit video capture:
In addition to the above, these SSDs work ONLY for compressed video capture: