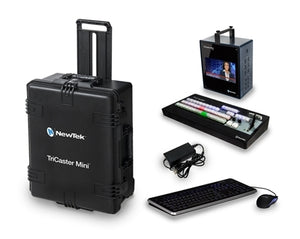 TriCaster Mini Advanced HD-4 SDI Bundle (Education)
Regular price
Sale price
$10,995.00
---
Portable, Professional, and Equipped for End-to-End IP
Produce and publish extraordinary video content for screens and audiences of all sizes with the most complete, compact multimedia studio in the world—TriCaster® Mini Advanced.
Real Video Production. No Experience Required.
You don't have to be a video expert, own a studio, or know your way around a broadcast control room to deliver your message through video with network-quality results. With an all-in-one design, do-it-yourself setup, and hundreds of entry-level and advanced production capabilities, you can be on your way to captivating audiences from anywhere within minutes of opening the box.
HD switching, streaming, and recording
8 external video inputs and 4 mix outputs
Connect to compatible IP devices via NDI®
Streaming to Facebook Live, Twitch, and more
Real-time social media publishing
Multi-channel recording and internal storage
Video playback without any additional hardware
Built-in live titling and motion graphics
Multi-channel audio mixing
SDI, HDMI, and case display options available
Max potential
Maximize your investment now and for the future. With TriCaster Advanced Edition software now included, TriCaster Mini Advanced offers more than 100 additional video production capabilities compared to the original system platform—at no additional cost.
Product Tour
With streamlined turnkey hardware and familiar A/V connections, setup is fast and easy for both newcomers and video professionals. Simply plug in your cameras, keyboard, mouse, and network cable—and start creating.

Enter the World of IP Video – Today.
Connect to the most prolific IP-based workflow in the industry right out of the box. With native integration of NDI®, NewTek's innovative Network Device Interface technology, TriCaster Mini Advanced is instantly compatible with products from hundreds of manufacturers and developers over the network.
Get Creative
Use any combination of compatible video sources, including cameras, mobile devices, computers, gaming systems, streaming media, video files, graphics, images, animations, and more
Let your imagination run wild with multi-bus mix effects, custom animated transitions, data-driven graphics, green screen compositing, live virtual sets, and more
Personalize your production environment with customizable control and monitoring options, and automate live operations with a versatile macro automation system
Reach Your Audience
Live stream to multiple destinations simultaneously, including Facebook Live, Microsoft Azure, Periscope, Twitch, Ustream, YouTube Live, and more
Share media to multiple user accounts on your favorite social networks, like Facebook, Imgur, LinkedIn, Twitter, Vimeo, YouTube, and more
Capture and export QuickTime® and H.264 video files for VOD, post-production, replay, and archive