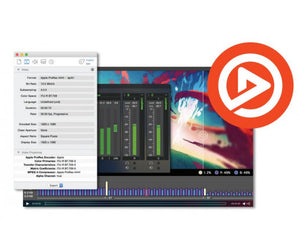 Switch 4 Pro for Windows - (ESD)
Regular price
Sale price
$439.00
---
Play It.  Check It.  Fix It.  Deliver It.
Professional media player, inspector and correction tool for Mac and Windows.
Everything you need in one application. Switch lets you play a variety of web and professional media formats, inspect and adjust the properties of the file and export a new file. Designed for media professionals, Switch enables visual file inspection, single file transcoding and is an affordable software solution for professional media Quality Control.
Play It
Trust Switch for frame-accurate, smooth playback of all your media files, including captions and subtitles. Includes SDI out for external preview.
Check It
Inspect video properties, audio properties, captions, and subtitles. Includes loudness monitoring, compare media feature, and Timeline view showing video GOP structure.
Fix It
Make changes: trim, scale or crop your media; rearrange audio tracks; change speaker assignments and rewrap or encode your media.
Deliver It
Use the iTunes preset to create asset-only iTunes store packages, or publish your media directly to Vimeo, YouTube, or Facebook.
Affordable high-quality QC
With features such as professional audio meters with loudness monitoring, HDMI/SDI Output to an external monitor, easy media file comparison feature, and support for playback of captions, Switch Pro provides an affordable software solution for professional media Quality Control.
Caption playback and verification
Play CEA-608 & CEA-708 captions, as well as SCC, DVB, TTML (iTT and SMPTE-TT) and WebVTT, SRT and STL subtitle files to verify timing and accuracy. Switch is the only software player with full support for CEA-708 caption decoding, including advanced 708-only features like Unicode character support.
Deep file inspection
Switch gives you frame-accurate playback of all your media and lets you see detailed information about it in an intuitive, well-organized interface. See metadata (including DPP), bitrate, video essence and codec, audio channels, speaker assignments, and loudness levels. Also compare multiple files in a single window – great for ABR workflows.
What's New
Switch 4 adds improved performance, growing file support, OP-47/OP-42 Teletext caption playback and team collaboration.
Switch 4 is a free upgrade for Switch v2 and v3 customers who have Premium Support.
For customers without Premium Support, Switch 4 is a paid upgrade.