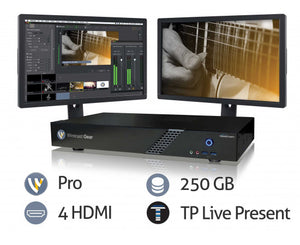 Wirecast Gear 110
Regular price
Sale price
$4,995.00
---
Wirecast Gear 110
A live streaming production system great for basic live event production and streaming.
Wirecast Pro software
4-channel professional camera inputs with HDMI
250GB storage (~5 hrs of HD video)
Wirecast Gear is an extremely portable computer workstation designed to run Wirecast Pro, for live event production and streaming. With four HD-SDI or HDMI professional camera inputs and all the live streaming production features of Wirecast Pro, in a compact, powerful hardware system, Wirecast Gear is a unique blend of performance, ease of use and affordability.
Fully configured, end-to-end, live streaming production system that is affordable and easy to use
FEATURES
Versatile, convenient design
The versatile Wirecast Gear workstation is based on a short-depth rackmount for convenient mounting in a travel case or in-place installation. It also comes with a set of rubber feet for tabletop operation with a sleek, ergonomic design built to easily fit into your production environment. The unit has no platter-based hard drives, making it ideal for transport. Choose from SDI or HDMI models.
Fully configured, ready-to-use system
Don't worry about building your own Live video streaming system - we built one for you. Wirecast Gear comes with everything you need to start streaming to Facebook, YouTube, Twitter or any destination on the web in minutes. Plug in up to 4 cameras in the HD-SDI or HDMI inputs, and you're ready to go. Comes with seven USB 3.0 ports, three display ports, and fully loaded with Wirecast Pro and NewBlue live titling software, plus Switch - our advanced media player.
Impressive features, at a lower price
From ingest of live sources to an encoded live stream, Wirecast Gear handles it all. It has a versatile and convenient footprint, more powerful live streaming production features, and starts at just $5,995.
Powerful live production
Wirecast Gear pre-loaded with Wirecast Pro, Telestream's award-winning live video streaming production software. Wirecast lets you switch between multiple live cameras while dynamically mixing in other media such as remote live guests, screen captures, movies, images, and audio tracks. It's powerful production capabilities include features such as fully-feature audio mixing, dynamic transitions, instant replay, playlists, built-in titles, chroma key, virtual sets, live scoreboards, clocks, timers, and more.
Hardware-accelerated encoding
When you're ready to stream, Wirecast's built-in encoding engine allows you to stream high-quality H.264 video and AAC audio over RTMP, RTP and Windows Media protocols for maximum flexibility. Stream to multiple destinations simultaneously and record. Using the hardware-accelerated Quick Sync encoding, you can easily stream or record high-quality video while using fewer resources.
Add Wirecast GearCare for peace of mind
Wirecast GearCare is a powerful upgrade that extends Warranty and Support on a Wirecast Gear system to three years. Included is full Wirecast Premium support for direct access to Telestream technicians, Next Day Air advanced replacement if your system fails and access to the latest versions of our software.